Welcome to the Detroit: Become Human wiki!
The best source of information about
Detroit: Become Human
, written for fans, by fans.
Detroit: Become Human
is the latest title developed by
Quantic Dream
that expands on the studio's legacy of gripping, narrative driven experiences (
Fahrenheit
/
Heavy Rain™
/
BEYOND: Two Souls™
). Discover what it really means to be human in a powerful, emotional journey made of choice and consequences. In this ambitiously bending and thrilling narrative, every choice and action not only determines the character's fate, but that of the entire city and possibly beyond.
---
Loading RSS data...
Who is you favorite protagonist?
Who is you favorite Secondary Character?
Should this wiki have a Discord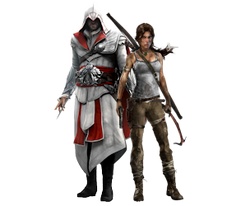 Action-Adventure Games
Go to these sites for info or for help with your own wiki!
ARK: Survival Evolved • Assassin's Creed • Bayonetta • The Binding of Isaac • Castlevania • Crackdown • Darksiders • Days Gone • Detroit: Become Human • Devil May Cry • Dragon's Crown • Fran Bow • God Eater • Grand Theft Auto • Gravity Rush • HITMAN • Horizon Zero Dawn • InFAMOUS • Just Cause • King's Quest • L.A. Noire • Last Day on Earth: Survival • The Last of Us • Legacy of Kain • Legend of Zelda • LEGO Dimensions • LEGO Games • LEGO Marvel and DC • Lightseekers • The Longest Journey • Mafia • Marvel's Spider-Man • Metal Gear • Monkey Island • Monster Hunter • Ninja Gaiden • No More Heroes • Ōkami • Prince of Persia • Red Dead • Senran Kagura • Sleeping Dogs • Splinter Cell • Subnautica • System Shock • Tomb Raider • Uncharted • Watch Dogs • Yakuza
Want your community included? See how!
See all of our Action-Adventure gaming wikis!