This article is about the chapter. For the sex club, see Eden Club.
Detroit: Become Human Chapters
For the full transcript of this chapter, click here.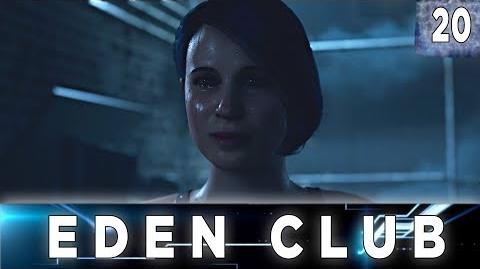 The Eden Club is the twentieth chapter of Detroit: Become Human. This chapter has five different outcomes.
Overview
[
]
This chapter is from the perspective of Connor.
Flowchart
[
]
This is the flowchart walkthrough for The Eden Club, with 100% completion rate and all checkpoints. To the right is a video showing the in-game flowchart, while below is a text version for ease of use.
Investigate Eden Club
Follow Hank
On Crime Scene
Listen to Briefing
Search for Clues
Repair Android
Talk to Android
Calm Approach OR Aggressive Approach
Leave Crime Scene (checkpoint)

Give Up
Find an Android Eyewitness

Ask Hank to Help

Pursue Deviant
Android's Memories Are Reset - leads to Mission Failed

Enter the Warehouse (checkpoint)
Search For Blue Haired Deviant
Investigate Blue Haired Deviant
Deviants Attack
Relationship Changes
[
]
Hank
[
]
Failing to locate the Tracis
Sparing the Tracis
Shooting the Tracis
Software Instability
[
]
Sparing the Tracis
Shooting the Tracis
Notes
[
]
The songs that play in the background of the club are "Station" and "Electric Night" by Model 500.
The Traci Floyd Mills mentions to Hank that they lost a few months back is North.