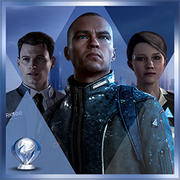 Trophies are small achievements the player can earn for performing specific actions in most PlayStation games. Detroit: Become Human has a trophy list containing 49 trophies: 40 are bronze, 5 are silver, 3 are gold, and 1 is platinum. The whole list amounts to 1,200 points in the trophy percentage for PSN users.[2]
All trophies are missable except for THANK YOU and THIS IS MY STORY. For guides, refer to each individual trophy page.
Upon obtaining the platinum trophy, select users may receive an e-mail from Sony with a code that earns them a free PSN avatar.[1]
The following list is ordered based on trophy grade. (platinum, gold, silver then bronze)
Indigo Prophecy and Detroit: Become Human are the only Quantic Dream games where the trophy images are different from each other.[3]

Detroit: Become Human is also the only Quantic Dream game where all trophy names are in capital letters.

Following the style of Heavy Rain and Beyond: Two Souls, all Detroit: Become Human trophy images are based on that trophy's rarity.

And alongside Indigo Prophecy, the platinum name has the game's name on it followed by "Master".

Markus is the only playable character without a silver trophy specific to one of his chapters.
In the case of a second account being logged in to a PlayStation 4 while playing the game, there is a chance that the trophies will not unlock even if their requirement was met.
Detroit: Become Human is the only Quantic Dream game not to have an "All Endings" trophy unlike Heavy Rain and Beyond: Two Souls.

Getting all endings would be rather difficult for the players since some of them are either sad or just something the player can't force themselves to do. A certain percentage of players would've chosen the good endings rather than the bad ones was possibly the reason behind this (it can be seen on the flowcharts).
References
Edit
Community content is available under
CC-BY-SA
unless otherwise noted.